Up until recently, the youth group never really had a space to call their own. In an overcrowded church with very limited space, this made it difficult for students to connect on a deeper level. That soon changed, however, in the summer of 2018, when a new youth ministry was launched. After much planning, designing, and renovating, what used to be a dingy multipurpose room in disrepair became what is now known as the Center for Youth Ministry at Calvary.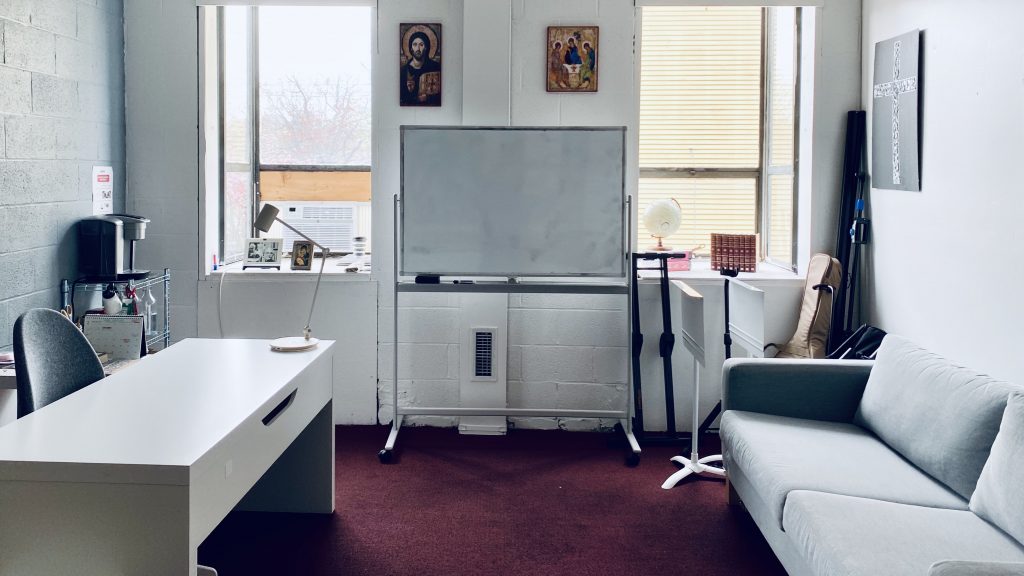 Apart from wanting to give students a space to hang out in, the Center was actually designed out of two key theological convictions: 1) God created us as embodied beings; therefore, the space/land we as Christians inhabit plays a huge role in the formation of our faith identity; 2) by tethering our feet to the ground beneath us, God communicates His faithfulness to us through the inheritance of such gifts [Deuteronomy 12]. Thus, we knew it'd be important for our students to have a home within their home, since all of these things work in tandem with spiritual formation.
In addition to housing the youth pastor's study, the Center is most importantly a space of rest for our students. It's a space for them to unwind from the stress of difficult home lives, as well as the mounting pressures of school, by enjoying one another in Christ through fellowship. This comes about primarily through Sunday school classes, Friday night bible studies, prayer meetings, and the occasional hot chocolate! Youth workers also make productive use of this space. Here they receive discipleship training, conduct ministry planning, and create fresh content for future devotionals and lessons.
At Calvary, the Center is indeed a principal site of worship, devotion, fellowship, and scholarship. And its occupation of a central location within the church building is indicative of what we believe its Kingdom purpose is: to bless the youth group, to then bless the church-community, to then bless the city, to then bless the world.