Blessed be the God and Father of our Lord Jesus Christ! According to his great mercy, he has caused us to be born again to a living hope through the resurrection of Jesus Christ from the dead… -1 Peter 1:3
Yesterday, on Easter Sunday, Calvary had the immense privilege of witnessing four baptisms. They were the baptisms of two youth group students (Allen Liu and Daniel Xiao), one college student (Connie Xiao), and one graduate student (Sijin Ren). Apart from actually baptizing these students – which I was absolutely wrecked by – one of the most moving parts for me was listening to the students deliver their testimonies live in front of the entire congregation.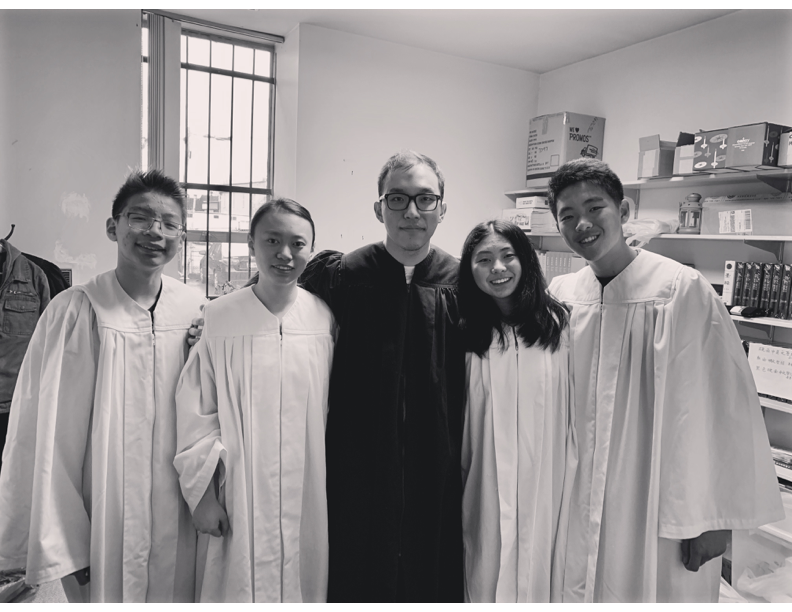 For in our sin and weakness, we have a tendency to think that God is aloof and far off, that is, living distantly somewhere up in heaven. But these testimonies functioned as powerful and subversive reminders that God is not finished with us yet. He has not abandoned us to our own devices, He has not given His creation over to death. These students are indeed living testimonies of that fact. God is alive and active. Over and against us, yes, but also nearer to us than we are to ourselves. He is immanent and close, moving among us, calling lost sinners to Himself, and transforming penitent hearts.
This is why I've always loved witnessing baptisms, especially on Easter Sundays, because it captures so clearly the love of God and the power of Christ's resurrection, that is, in action and in real time. That death does not have the final word. That there is new life awaiting those who put their trust in Him. Though their testimonies are different, and though their lives are uniquely formed, the one hope of Christ is always the constant. These students remind us that without Christ we are left with nothing but nihilism and despair. Only because of Christ and the empty tomb are we opened up to new possibilities, possibilities born by the hope of God's love. That is why for this week's devotional I'll let our newly baptized do the sharing. -Pastor David M. Choi
Connie Xiao's Testimony

1.How did you become a Christian?
When I entered college, the trajectory of my life was headed in the opposite direction of Christ. I never swore off alcohol and parties. I reasoned that if the occasion came up, and if I thought it would be fun, I would let loose and live like every other college freshman.
My coming to Christ then started with a chance meeting with a group of girls in my dorm. We had finished a dorm-wide meeting on alcohol safety, and collectively all 500 residents wandered to one bus stop, awaiting the bus back to our dorms. I found myself standing next to three other girls, who quickly revealed to me that they were going to church that coming Sunday. With no other plans, I decided to tag along. The fellowship and ministry that I became a part of in college reversed my course. However, it was on one particular Sunday that I decided to become a Christian.
My college fellowship was on a retreat for the weekend in Connecticut. After the morning service, the pastors did an altar call, at which point I felt the Holy Spirit physically moving me. Others went forward, praying and pleading with God, but I stubbornly stayed behind. I resisted God with all of my might, and I could feel myself shaking from the effort. I was wringing my hands and squeezing my eyes shut. I didn't want to give myself over to Him. In the eighteen years of my life, I had never wanted to do so. But in that moment, I felt the shame of my sin. I felt the depravity and the deadness of my own self. I could no longer resist, and so I stumbled to the altar and wept for my sin and my shame, and I wept for the renewal of Christ.
I am fortunate to say that I can pinpoint my coming to Christ with exactitude. Though I am also unfortunate enough to say that I needed it to happen this way. Had I not realized my sins in such a painful and revealing moment, I would not be here today declaring my candidacy for baptism. But for God's grace and for His salvation, I am eternally blessed and grateful.
2. Why do you want to be baptized? What does this baptism mean for you?
I want to be baptized because it is finally time for me to put to death my former self of sin. God has planted this seed of movement within me, a movement that now calls me to Him. I've responded by repenting of my old and evil nature, by humbling myself before Christ, and by putting on a renewed and righteous nature by way of His grace. Knowing the wretchedness of my former self, I cannot live any longer without the cleansing of my sins in Christ. So baptism is, for me, the forgiveness of my sins as well as the promise of new life in Christ, which I've received through faith. 
3. Why do you want to follow Jesus? What about Jesus makes you want to follow him?
Only Jesus Christ can justify and sanctify me. He alone forgives and saves me from my sins. I want to join the one body of Christ because I long to rest in His promises for me. I need His promises to cleanse me of my sins and to renew my life. Jesus, fully human and fully divine, is the only one who can deliver me. He who did not sin sacrificed His own life in order to wipe my slate clean. Out of gratitude, I now give myself over to Him. And as I become a member of the body of Christ, I commit to walk with Him in discipleship.
---
Note: These are abridged versions of the students' testimonies. Connie was not able to provide a video testimony due to her being away at school in Boston. Permission to share Sijin's testimony is still pending.